On Charlie Rose ~ Erev Halloween, 2000
I was half kidding when I asked where Hanan Ashrawi has been all these years, so this came as a bit of a shock.
And where has she been last week? Friday's public schedule for William Burns (number three person in the State Department) showed a meeting with the Chinese ambassador at 10 a.m., a meeting at the White House at 11 a.m., and a meeting at 3 p.m.: "Under Secretary Burns meets with Dr. Hanan Ashrawi of the Palestinian Initiative for Global Dialogue and Democracy."
Oy gevalt. And just before that, she was speaking at Princeton. (Do you know where your children are?)  
What I didn't realize is that she is part of Abu Mazen's Misc. Arab "government." (Or is she?)
Political Science professor Bret Kincaid of Eastern University (a Christian university affiliated with the American Baptist Churches USA)  took his students to visit her during spring break (Mexico was out of the question):
It was Thursday morning of spring break and [we] were in the West Bank city of Ramallah to visit a Christian political rock star in the turmoil called the Israeli-Palestinian conflict.  Her name is Dr. Hanan Ashrawi, the once political consultant and close friend of the Palestine Liberation Organization leader Yasser Arafat and now a leader of a tiny Palestinian political party called The Third Way, the name of which infers a political approach that eschews the corruption of Fatah (the current governing party of the West Bank) and the violence and anti-Israel Hamas (the opposing party governing the Gaza Strip).  The diminutive size of The Third Way belies its political power as it includes Prime Minister Salam Fayyad as another of its leaders.

We were experiencing mental and emotional whiplash and were in Dr. Ashrawi's government office to ask her a few questions....
It's easy to see how the present misadministration might welcome Ashrawi.  She is Obama's ideological twin, a fellow 'community organizer.'
On September 26, 2009 ... she defined her current role in the following way: "I think of myself essentially as a human being with a multidimensional mission. Basically, I am a Palestinian, I am a woman, I am an activist and a humanist, more than being a politician. And at the same time I feel that quite often things are thrust upon us rather than come as a result of a calm and deliberate choice." 
Ah yes, the "thrust upon us" feeling. How familiar is that?
In other news,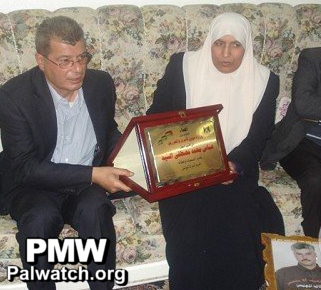 The Palestinian Authority Minister of Prisoners' Affairs, Issa Karake, visited the family of the terrorist Abbas Al-Sayid who planned the Passover suicide bombing in 2002. Thirty Israelis were killed in the terror attack, when a suicide bomber entered a hotel in Netanya and detonated his bomb during the Passover Seder dinner. Al-Sayid is serving 30 life sentences for planning this attack.

 

 
Victims

| Name | Age | Hometown |
| --- | --- | --- |
| Shula Abramovitch | 70 | Holon |
| David Anichovitch | 70 | Netanya |
| Avraham Beckerman (Sgt.-Maj.) | 25 | Ashdod |
| Shimon Ben-Aroya | 42 | Netanya |
| Frieda and Alter Britvich | 86 and 88 | Netanya |
| Idit and Andre Fried | Both 47 | Netanya |
| Miriam Gottsegen | 82 | Ramat Gan |
| Amiram Hamami | 44 | Netanya |
| Perla Hermele | 79 | Stockholm, Sweden |
| Dvora and Michael Karim | 73 and 78 | Netanya |
| Yehudit and Eliezer Korman | 70 and 74 | Ramat HaSharon |
| Marianne Myriam Lehmann Zaoui | 77 | Netanya |
| Lola Levkovitch | 70 | Jerusalem |
| Sarah Levy-Hoffman | 89 | Tel-Aviv |
| Furuk Na'imi | 62 | Netanya |
| Eliahu Nakash | 85 | Tel-Aviv |
| Chanah Rogan | 90 | Netanya |
| Irit Rashel | 45 | Moshav Herev La'et |
| Clara Rosenberger | 77 | Jerusalem |
| Yulia Talmi | 87 | Tel-Aviv |
| Sivan (St.-Sgt.) and Ze'ev Vider | 20 and 50 | Beka'ot |
| Eva and Ernest Weiss | 75 and 80 | Petah Tikva |
| Anna and George Yakobovitch | 76 and 78 | Holon |
In 2003, the PA sponsored a soccer tournament named the "Tulkarm Shahids Memorial soccer championship tournament of the Shahid Abd Al-Baset Odeh" describing the perpetrator as a "shahid" (martyr).  71% of Palestinians polled about the tournament said it was a "good thing" that it was named in honor of the bomber (New York Sun).