The outrages of this administration, headed by Presidential Eye Candy, continue to come so 'fast and furious' that it's beyond documentation. Who can even make a list, when several times a day you find out something even more outrageous than the last?
The FBI has yet to arrive at Benghazi. That's an outrage. Does anyone really think there's any point in "securing the crime scene" 17 days after the fact? But it's also an outrage that as far back as ten days ago, Obama spokesperson Jay Carney asserted to the press corpse that an "active" investigation was ongoing. It was a LIE.
There has been so much going on, that I never even get around to blogging most of it. (I know, I should quit, but I can't bring myself to stop before the election.) A couple of days ago I was infuriated by the fact that because Michelle Obama wants to run the lives of our children, they are going hungry at school. Can you imagine... American children are hungry in our government schools? It's an outrage, and all because we have allowed the unelected Missus Presidential Eye Candy to determine both the number of calories our children ingest during the school day, and in what forms those calories are allowed to appear.
The standards — which cap meal calories at 650 for students in kindergarten through fifth grade, at 700 calories for middle school students and 850 for high school students — also dictate the number of breads, proteins, vegetables and fruits children are allowed per meal. (Daily Caller)
Under the new regulations, cafeterias are required to serve twice as many fruits and vegetables while limiting proteins and carbohydrates. For an average high school student, that means two baked fish nuggets, a cup of vegetables, half a cup of mashed potatoes, one whole grain roll and 8 ounces of fat free milk is the fuel that served to get them through their last four hours of classes.
It is so bad that one teacher posted a photo of her lunch--one cheese breadstick, a small spoonful of marinara sauce, three apple slices and some raw spinach. (News.Gather.com)
When she asked why there was no meat in the marinara sauce, she was told that the protein quota had been met by the cheese in the breadstick.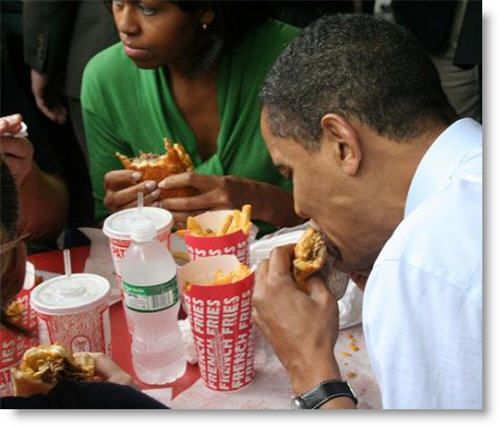 Compare and contrast with the choices available in the private school attended by the Obamas' daughters, where the $34,000 annual tuition entitles students to "free" hot lunch:
 Lower School
Snack: Local Zucchini Bread
Beet, Fennel & Orange Salad
Grilled Cheese Variety
Spicy Lentil Chili
Steamed Fresh Broccoli
Brown Rice Pilaf
Orange Wedges
Middle School - Upper School
Tomato Soup
Arugula, Fennel and Parmesan Salad
Atomic Tuna Salad
All Natural Beef Chili
Vegan Spicy Lentil Chili
Homemade Cornbread
Steamed Fresh Broccoli
Brown Rice Pilaf
Orange Wedges
The problem for us is that the US Department of Agriculture doles out some of our hard-earned taxpayer dollars along with some monies borrowed from China, to pay not only for food stamps, but also for free lunches for poor kids. Schools risk losing that funding if they don't toe the Gubmint line. So get this. In response, the Gubmint had this to say (in the person of Janey Thornton, a USDA Deputy Undersecretary):
"One thing I think we need to keep in mind as kids say they're still hungry is that many children aren't used to eating fruits and vegetables at home, much less at school. So it's a change in what they are eating. If they are still hungry, it's that they are not eating all the food that's being offered." (ibid)
Outrageous.
Now our domestic policy is horrendous enough, but in foreign affairs it's really frightening. Thomas Lifson tells us that "Susan Rice blew off Netanyahu's UN speech."
Our UN ambassador, last heard from selling the lie that Benghazi was a spontaneous response to an internet video on 5 Sunday shows, was simply too busy to honor the Prime Minister of Israel's speech to the UN General Assembly with her attendance. This body language amplified Obama's snub of Netanyahu when both men were at the UN, communicating a clear message to the mullahs in Tehran and the rest of the world:

The US is backing away from its relationship to Israel. And after the election, Obama will have a lot more flexibility.
United States Secretary of State Hillary Clinton and Israeli Prime Minister Benjamin Netanyahu speak before a meeting at the Regency hotel, Thursday, Sept. 27, 2012 in New York. (AP Photo/John Minchillo)
In addition, there are of course the "free" cell phones, "free" colonoscopies, "free" 'morning-after' abortifacients, Solyndra Redux at SoloPower, the closing of the Campbell's soup plant, and various free speech getting shut down.


9:45 am || Receives the Presidential Daily Briefing
10:15 am || Meets with senior advisers [Valerie Jarrett, David Plouffe]
 4:20 pm || Delivers remarks at a fundraiser; Capital Hilton, Washington
 6:05 pm || Delivers remarks at a fundraiser; private residence, Washington
 8:25 pm || Delivers remarks at a fundraiser; Capital Hilton, Washington