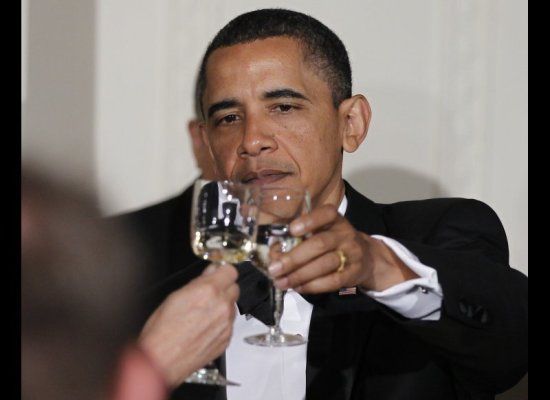 President Barack Obama offers a toast as he and first lady Michelle Obama host Mexican President Felipe Calderon and Mexico's first lady Margarita Zavala at a State Dinner at the White House in Washington, Wednesday, May 19, 2010. (AP Photo/Charles Dharapak)
Scandal: A former ATF special agent tells Congress a National Security Council staffer was informed about Operation Fast and Furious before guns allowed into Mexico wound up at the murder scene of a U.S. agent.

The latest evidence that both the White House and attorney general knew and approved of Project Gunrunner and its deadly offshoot, Operation Fast and Furious, came this week in the testimony of William Newell, ATF special agent in charge of the Phoenix office, before Rep. Darrell Issa's House Oversight and Government Reform Committee.

That the "stench of cover-up," as Fox News analyst Brit Hume described the administration's handling of the matter, may reach even into the Oval Office itself was evidenced by Newell's testimony that he communicated with Kevin O'Reilly, a staffer on President Obama's National Security Council, about Operation Fast and Furious in September 2010.

O'Reilly was national security director for North America tasked with monitoring the activities of Mexican drug cartels. We are asked to believe he inquired about a program that was providing the cartels with guns but kept what he found out to himself.

That date, by the way, is three months before weapons permitted to "walk" into Mexico were found at the scene in Arizona were U.S. Border Patrol Agent Brian Terry was murdered. Newell said O'Reilly had inquired about the status of Project Gunrunner to brief administration officials before a trip to Mexico....

 
The complete editorial is HERE.  See transcript of pertinent testimony HERE. 
Meanwhile, the LA Times assures us that the White House didn't know:
An ATF supervisor who was asked to provide information on efforts to stop weapons trafficking to Mexico did not mention Fast and Furious, a botched operation that let guns reach drug cartels.
Texas on the Potomac has an interactive map that shows the locations - ranging as far south as Acapulco - where authorities have so far recovered 122 weapons that "the ATF allowed to be trafficked into Mexico."