Hillary Clinton's "historic" LGBT speech at the UN in Geneva yesterday is being touted as "amazing," a "landmark," anything and everything just short of earth-shattering.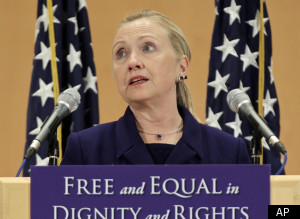 And it will no doubt accomplish every bit as much as the 2007 press conference where she pandered to Jewish voters by condemning incitement in Palestinian textbooks.  The left despised her for that, but loves her for this. Both she and they are fickle. But that's not why I bring this up.  
In the speech, she said:
" We need to ask ourselves ... 'How would it feel to be discriminated against for something about myself that I cannot change?' "
I don't mean to be disrespectful, but I thought the whole point of Transgender was that one COULD change something about oneself.
Full disclosure -- I am in favor of discrimination: We should absolutely discriminate against stupid politicians who say stupid things. Even if it makes us laugh when they do.
And PS, In case you're wondering, Clinton made no mention of the death penalty on the books for homosexual behavior in Saudi Arabia, Iran, and five other Muslim countries. She did not admonish the audience to ask themselves "how would it feel" to be hung, beheaded, stoned or burned to death for this "crime."