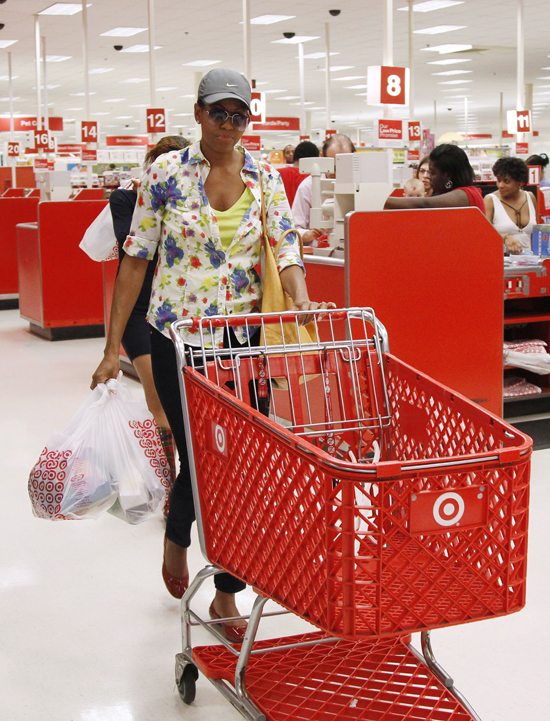 It seems like only yesterday that our state-run media was celebrating Michelle Obama's "incognito" trip to Target, and Rush Limbaugh was being castigated for calling it a "phony-baloney plastic banana ... photo op."
I wouldn't hold my breath, however, if you're waiting to see her latest shopping trip reported in the U.S.
Our thanks to Brother Jack, who found the story at The Telegraph (UK): 
 

Agent Provocateur saw sales jump by more than 12pc, helped by US First Lady Michelle Obama spending $50,000 (£31,794) in one shopping spree.

The First Lady ... along with the Queen of Qatar, Sheikha Mozah, closed off part of Madison Avenue to spend time in the luxury lingerie shop.

Their purchases contributed to a market-spanking 12.5pc lift in sales...

 
The Mirror (UK) has some gorey details you may not want to know. They report that the First Lady "bought posh pants and a £900 ($1,415) corset..."  
I'm sure the First Lady was simply trying to boost the economy, with some stimulus of her own. According to the International Business Times:
Their lavish purchases contributed to a 12 percent increase in sales of the company...
Never heard of Mrs. Obama's shopping buddy, Sheikhah Mozah? Where have you been? The third wife of the Emir of Qatar, she was named among Vanity Fair's Best Dressed in 2011 and according to the Huffington Post, is the "First Lady of the World."
From Left: (1) Libyan leader Muammar Gaddafi's daughter Aisha Muammar Gaddafi; (2) Pakistani Prime Minister Yousuf Raza Gilani's wife Fauzia Gilani; (3) Syrian President Bashar Assad's wife Asma Assad; (4) Qatar Amir Sheik Hamad bin Khalifa al-Thani's wife Sheikha Mozah bint Nasser Al Missned; (5) Turkey's Prime Minister Tayyip Erdogan's wife Emine Erdogan; (6) Jordanian Queen Rania; (7) Lebanese President Michel Suleiman's wife Wafaa Suleyman and (8) Vice Speaker of the Azerbaijani parliament Bahar Muradova -- pose for a family photo at the Istanbul Meeting in Support of Gaza ... January 10, 2009.